Hye Pn.Marjan!!
Today I'm gonna share the recipe of my favourite food which is: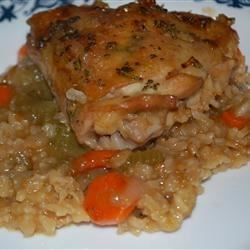 Chicken and Rice Casserole
This is the list of ingredient that you need:
1 cup of uncooked white rice.

1 (10.75 Ounce) can be condensed cream of chicken soup.

7/8 cups of water.

1 (1 ounce) package dry onion soup mix.

4 skinless, boneless chicken breast halves.
This is the steps in preparing this delicious meal:
Preheat oven to 350 degrees F (175 degrees C).

Spread rice in the bottom of a 9x13 inch baking dish.

Rinse chicken and pat dry; arrange chicken pieces on top of rice.

Mix soup and water together and pour over chicken and rice. Sprinkle dry onion soup mix on top.

Cover and seal TIGHTLY with foil. Bake in the preheated oven for 1 to 1 1/2 hours.

Lastly, enjoy this delightful recipe. =)
That is all. It's a really easy recipe which I'm sure everyone can try hassle free.
THANKS and BYE-BYE ~~~~...=D